Heating Experts
When it comes to warehouse heating systems, factory heating, office or retail heating, Air Ability are the HVAC experts.
With over 40 years commercial heating installation experience, Air Ability has established an enviable reputation for expert design, workmanship and providing fully qualified service support.
Air Ability will design a heating system to meet your buildings exact need. Our heaters will be highly efficient and provide years of reliable service. No matter how simple or complex the task our HVAC engineers will delight in sharing their years of knowledge, inspiring confidence that your heating solution is the right one.
Warehouse and Factory Heating

Floor standing or suspended, these robust and durable free blowing (and ductable) commercial heaters can be internally or externally sited. Natural gas, LPG or oil fired, they offer a flexible and cost effective means of heating your warehouse, factory or commercial building. A wide variation of heat outputs, distribution systems (duct, free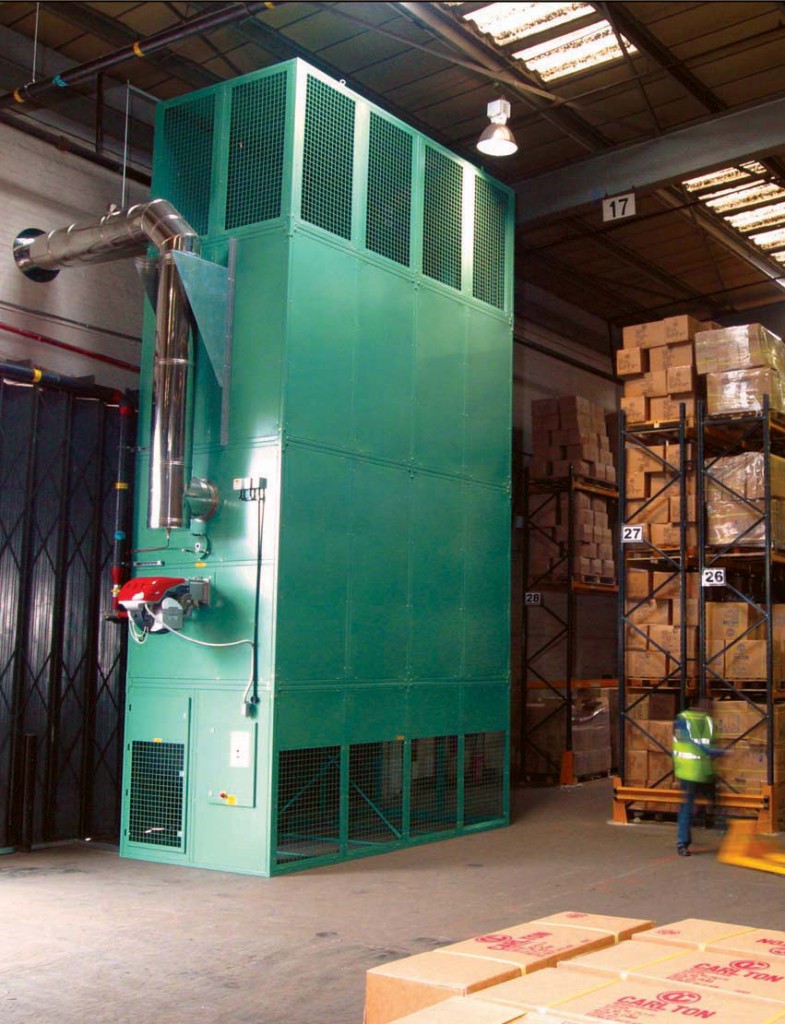 blowers or louvre) and energy efficient burners are available - expert advice is a must.
As an independent heating and cooling company we are not tied to any particular heater manufacturer. Our recommendation will be based on an extensive knowledge of the latest technologies and the experience of countless industrial and commercial heating installations. We will survey your premises, establish requirements, calculate heating loads and estimate energy savings.
Heat Recovery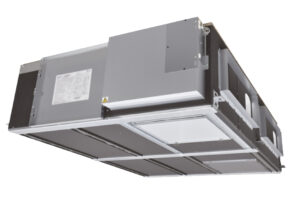 The Mitsubishi Lossnay (MVHR) offers mechanical ventilation with heat recovery. Because it can supply fresh air and extract stale air it can help with the effective ventilation of your premises. And because it can simultaneously recover valuable heat energy it is highly efficient and provide energy savings.
For more information of this exciting technology speak to our engineers or download the Mitsubishi brochure here.

Energy Efficiency as standard

The high efficiency products we recommend meet the efficiency requirements specified by UK Part L2B Building Regulations and will usually be on the Carbon Trust Energy Technology List - one of the criteria's of the Enhanced Capital Allowance (ECA) scheme. The latest warm air heaters feature options for energy efficient burners, which can deliver possible efficiencies of about 91% net. In combination with a sophisticated control system, optimal design and a high standard of install, this is the opportunity to lower running costs and gain greener premises.
Applications for Commercial and Industrial Heaters
Factory heating - however complex your premises
Warehouse heating - however large the area
Workshop heating - fast and individual heating solutions
Retail / shop heating - bespoke, unobtrusive & effective
Restaurant heating - keep your customers happy
Office heating - integrated climate control solutions
School heating - reliable and cost efficient
Commercial heating - be it distribution centre, leisure centre, play area, machine shop, garden centre, restaurant,church, depot or manufacturing facility, we have the installation and service support expertise that matters
Upgrades and refurbishments
For practical or economic reasons the best solution to meeting a customers requirements will sometimes involve upgrading, adding to or refurbishing existing plant. Air Ability will be pleased to advise, providing a comprehensive schedule of works and quotation.
Service and Maintenance
Regular servicing and maintenance by fully trained commercial heating engineers is essential to the continued performance and safety of your heating units.
At Air Ability our service does not stop at sale and install. We offer cost effective maintenance and service plans that will help keep your plant in optimum condition and fulfil health and safety obligations. We also support HVAC systems that we have not installed ourselves, so for expert assistance call our friendly engineering team now on 0116 288 4333.
Download: Powrmatic Heaters Technical Specifications
CPx Warm Air Cabinet Heater (Natural Gas, LPG and Oil Fired)
LNVx Suspended Warm Air Unit Heater (Natural Gas and LPG)
VPx Power Vented Gas Cabinet Heater (Natural Gas or LPG)
CECx Destratification Fan (Heat Recovery)