If you have air con it matters to you
The Kyoto Protocol has identified the necessity to reduce emissions of fluorinated greenhouse gases. There are now obligations for organisations that use F gases (for example in air conditioning systems) that include recovery of refrigerants, record keeping, new plant labelling and testing to check for leaks.
Overview of F-Gas Obligations
Only properly certified persons can recover refrigerants, additionally refrigerant leakage must be prevented (depending upon technical feasibility and disproportionate costs) and leaks should be repaired without delay.
The requirements to test for leakages depends upon the system and its F gas usage. For example a system with less than 3 kgs of F gas refrigerants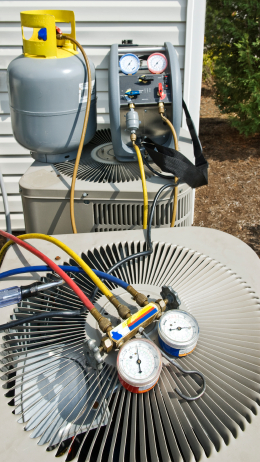 requires none, 3 - 30 Kg (6 -30kg if hermetically sealed) is once a year, 30-300 kgs is twice a year (annually if fitted with automatic leak detection), and those greater than 300 kgs will be every 3 months (an automatic leakage detection system is mandatory and must be checked annually). Furthermore Pressure Systems Safety Regulations 2000 may apply to air conditioning systems with compressor powers greater than 25kW.
How can Air Ability help?
Air Ability engineers are fully qualified to handle and safely recover refrigerants. We can commission inspections, usually when we carry out routine servicing or maintenance, and put in place a programme of checks to assist with your continuing obligations.
Further information:
www.defra.gov.uk/environment/quality/air/fgas/sectors/rac.htm
Disclaimer: The information presented here is intended as an introductory and general guide. It should not be relied upon as a definitive interpretation of legislation, statement of law or as a substitute for legal advice. Air Ability Ltd disclaims any responsibility howsoever arising from any inaccuracies, errors or omissions which may be present.