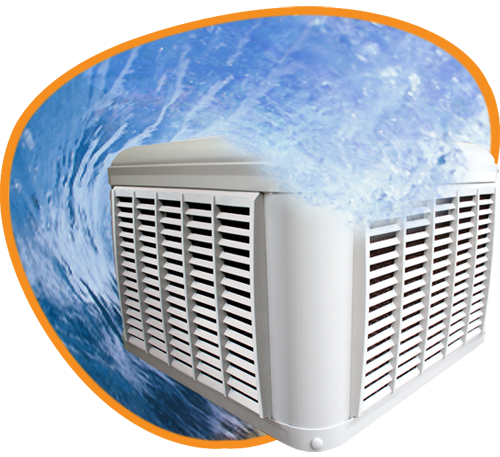 Low Cost Cooling and Ventilation
When it comes to powerful, effective, low cost cooling and ventilation for large open spaces, evaporative cooling is the HVAC answer. Ideally suited to factory, warehouse, retail, shop or sports centre cooling this simple technology does exactly what it promises. It can be equally effective for cooling or ventilating offices or server rooms.
Outstanding Cooling Performance
A single evaporative cooler unit cools 360m2 by up to 16°C, even with roller doors and windows open. Perfect for warehouse cooling. Used individually, or more often in a series, external units are usually roof mounted and duct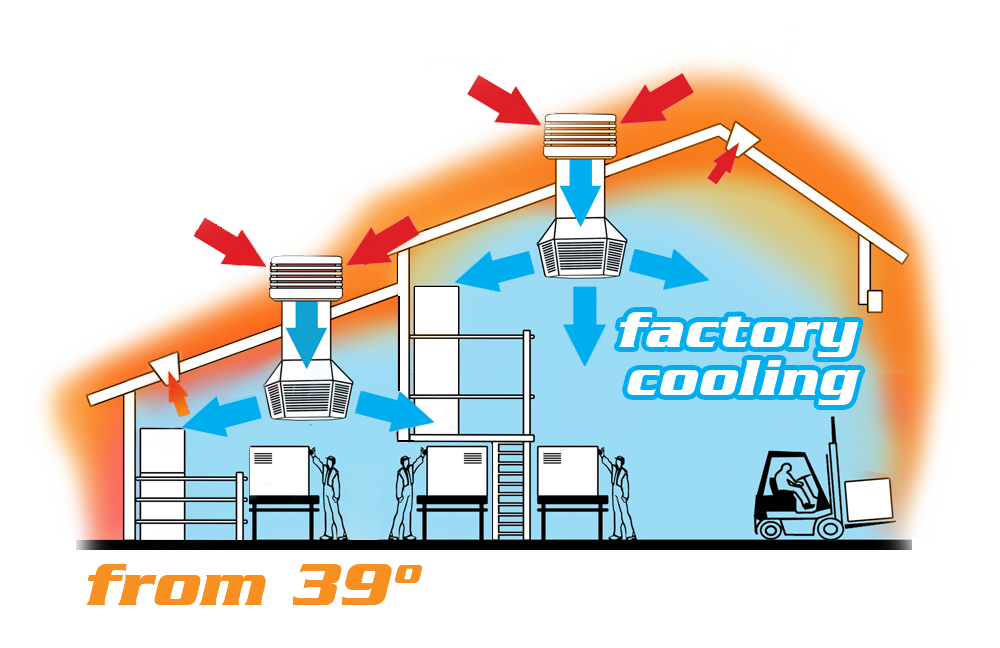 naturally cooled 100% fresh air to plenums for even distribution or spot cooling.
And great for ventilation 
As evap coolers introduce a constant stream of 100% fresh filtered air from outside it displaces the hot and polluted air inside. Perfect for achieving constant air changes in the workplace.
From just £6000 to install and £1 a day to run
CoolBreeze evaporative air coolers are very much cheaper than a traditional refrigerant based air conditioning system to purchase and install. The cooling system operates only on the hottest days when it is required, often the ambient temperature outside is sufficient that it is not needed.
The process is simple and economical, fresh air is chilled over cellulose pads and water. The result is that efficient evaporative coolers like the Cool Breeze Maxima use approximately 80% less electricity to run than a traditional air conditioning system. In other words a single unit can cool and ventilate 360m2 for about £365 per annum.
Simple Effective Cooling Technology
With only a few moving parts, evaporative cooling blows warm dry air over water held in saturated cellulose pads. As it evaporates it absorbs heat, which is carried away providing a constant flow of naturally cooled 100% fresh and filtered air.
Kinder to the Environment
With no CFC's an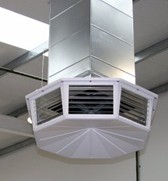 d incredibly low energy consumption, evaporative cooling is a responsible choice when it comes to the environment.
Factory, warehouse, office or server room...
The advantages of evaporative cooling can be easily harnessed to suit most commercial environments. External units use a sophisticated control system and balanced ventilation to distribute fresh cooled air via fabric or metal ducts to exactly where it is needed.
Evap cooling is not just ideal for warehouse cooling though, it is also suitable - and cost effective - for rooms that require close temperature control such as server rooms and data centres.
Applications for Evap Coolers
Factory cooling and ventilation – large or small, single or multiple areas, evap cooling is ideal for factories that require serious ventilation and cooling
Warehouse cooling and ventilation – evap cooling works superbly, even with roller doors open providing ventilation and a cool workplace
Workshop cooling and ventilation – effective, fast to work and in expensive to install and run
Shop / retail cooling and ventilation – the economic and effective way to cool retail premises
Office cooling and ventilation – for open plan offices or more complex arrangements
School cooling and ventilation – cost efficient and highly reliable cool air and ventilation
Restaurant cooling and ventilation - cool fresh air and a comfortable temperature are one key ingredient for happy customers, not to mention staff
Commercial cooling and ventilation – from leisure centre to play area, machine shop to garden centre, church to nightclub, evap cooling is the way forward providing fresh air ventilation and a comfortably cooled environment
Why CoolBreeze Evaporative Coolers?

We recommend CoolBreeze units for their outstanding performance (supported by independent BSRIA test results), reliability and quality of build.
QAD230
Supremely quiet, highest quality fan motor with a projected service life in excess of 10 years in average usage conditions.
Unique 'powerflow fan' with dimpled blades increasing efficiency. At typical velocities of 1/7m/sec, the pressure drop through the Cool Breeze cellulose pad is just 20Pa
Long life, self-supporting cellulose pads that filter out particles as small as 10 microns
Industry leading intuitive system management with fault diagnosis and optional humidity control and remote shutdown available via BMS or timer.
Superior electronic water management system using patented maintenance free Magna sensor drain valve - no Magna Sensor installed by Cool Breeze has ever failed
Outstanding build quality, complimented by advanced BSF Luran-S Polymer casing
Maxima QMD230
The CoolBreeze Maxima sets the bar for cooling and ventilating. It boasts an inverter motor that offers quiet operation and precise climate control. Most importantly it is can deliver up to 3m3 of fresh filtered air each second. And because it runs at just 3.75A it can lower - already very low - running costs by up to 33% when compared with the standard QMD230. Like the QMD230 it is BSRIA tested for proven results.*
> Delivers up to 3m3 of fresh cool air per second* 
> Inverter motor runs at 3.75A to lower running costs by up to 33%†
> Variable speed offers precision climate control
> Quiet operation
​> Performance tested at BSRIA for proven results*
*Fan performance 10,781 m3/hr (100% fan speed corrected for standard 20°C temp and 1013mbar pressure) tested BSRIA, 6 June 2019
† CoolBreeze QMD230 compared with CoolBreeze QAD230. Pictures and graphics for illustration purposes only.
Maxima brochure is for general information only. Specifications are subject to change without notice. Always refer to your quotation for specific details of products.